Snoring is a noisy breathing during sleep. It happens at the time of sleep, when air can't move freely through nose and throat. During sleep, the muscles of your throat relax, tongue falls backward and your throat becomes narrow and floppy. When you breathe in, the walls of the throat begin to vibrate and to a lesser extent when you breathe out. These vibrations lead to the characteristic sound of snoring. The narrower your airway becomes greater the vibration and louder your snoring.
Snoring is a common problem found among both genders and people of all ages. It causes disturbance to your own sleep as well as for your partner's sleep. The most common adverse health effects that are usually linked with snoring are heart disease and poor daytime function.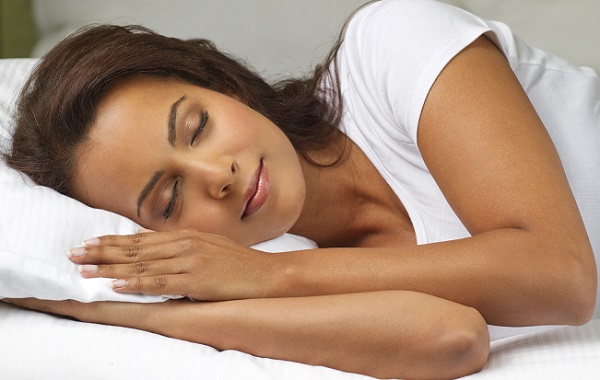 Some factors which facilitate snoring are as follows:
The normal aging process.
Anatomical Abnormalities of the throat and nose. Such as enlarged adenoids, nasal polyps cause exaggerated narrowing of the throat during sleep and it leads to snoring.
Functional Abnormalities.
Sleep position.
Muscle relaxants may lead to snoring in some individuals.
The most important risk factor is obesity having a lot of fatty tissues around the neck.
Natural Cures That Stops Snoring:
There are several natural cures for snoring which can reduce or even stop the irritating sound during sleep.
Change your life style to avoid snoring. It is a very common problem found in obese people. Excess of fat in the body can be seen in obese people. Especially around the neck, can put undue pressure on the airway and even cause it to partly collapse. So, the obese people have to maintain a proper diet chart and work towards the goal of losing weight.
Exercise keeps your body and mind in a relaxed state throughout the day. Exercise is helpful in maintaining a consistent sleep as well as in assisting with weight loss. Meditation can be combined with yoga to overcome snoring.
Smoking is a major contributor to snoring. Smoking causes upper airway irritation and inflammation which results in snoring. And prolonged smoking lead to permanent damage of respiratory system.
By drinking plenty of water and keeping yourself hydrated is one of the natural remedies for snoring. Consuming a lot of water during the day is good for your health and it will prevent from snoring at nights.
Use Eucalyptus Oil: This eucalyptus oil helps to breathe through your nose rather than your mouth. The essence of eucalyptus oil evaporates, the nasal passages opens and allows easier breathing through the nose.
Frequent consumption of sleeping pills, booze can lead to depression of your central nervous system and also causes snoring. The key to have a good sleep is just by relaxing. Make your mind calm and think only good things. Limit your thoughts to happy moments which gives hope. Happy moments will put you in a better mood of serenity and calmness.
These natural cures for snoring have proven quite effective. You can even consult doctor if natural methods do not seem to work when there may be further complications with your health conditions.